Downtown Pensacola is known for its beautiful sunshine, fabulous beaches, and exciting nightlife. From seaside bars to the bustling Seville Quarter, Pensacola is packed with fun things to do and amazing new drinks to try!

Read on to learn more about some of the city's most unique cocktails and the incredible bars and restaurants where you can enjoy them.
While this trendy and welcoming bar is predominantly known for its whiskey selection (over 650 on the menu!), you can also find plenty of amazing craft cocktails here. 90s sitcom fans will love the Friends-themed drinks on the menu; the On a Break, named for the infamous Ross and Rachel quote, offers bright, citrusy, and spicy flavors. The drink combines Hornitos tequila, basil and black pepper syrup, grapefruit cordial, and lemon and is served in a hula girl glass — which you can keep for $22!

Both locals and tourists alike have been flocking to Old Hickory for years — not just for the fabulous whiskey and cocktail selection but also for the fun events and classes offered right in the bar. To keep the Southern spirit alive, Old Hickory hosts a Kentucky Derby watch party on the day of the race, serving up Old Forester Mint Juleps and cocktails featuring Woodford Reserve. Patrons can also enjoy regular tastings, whiskey launch parties, and informative seminars.

This partying hot spot is a popular place to meet friends in Downtown Pensacola on a night out! The Big Fruity cocktail is sweet and beachy, featuring Svedka raspberry vodka, blackberry, cranberry, pineapple, orange juice, grenadine, and blue curacao. You'll truly feel like you're on vacation after the first sip! Frozen margaritas, perfect for summertime, are also on the menu, and you can't forget the selection of small plates that are great for sharing with friends. Order some buffalo wings (available in a variety of flavors like Jack Daniels and teriyaki), nachos, and cheeseburger spring rolls for the table!

Play Pensacola is a unique blend of a neighborhood bar and vintage arcade. Located on South Palafox Street, Play has won multiple awards over the years, including Best Bar Overall - Best of the Coast, Best Signature Drink, and Best Bar Downtown. You and your group of friends will love enjoying signature cocktails while challenging each other to games of pool, shuffleboard, air hockey, and of course, classic arcade games! Play frequently hosts events like themed trivia nights and competitive skee ball games, and live musicians and DJs appear at the venue frequently.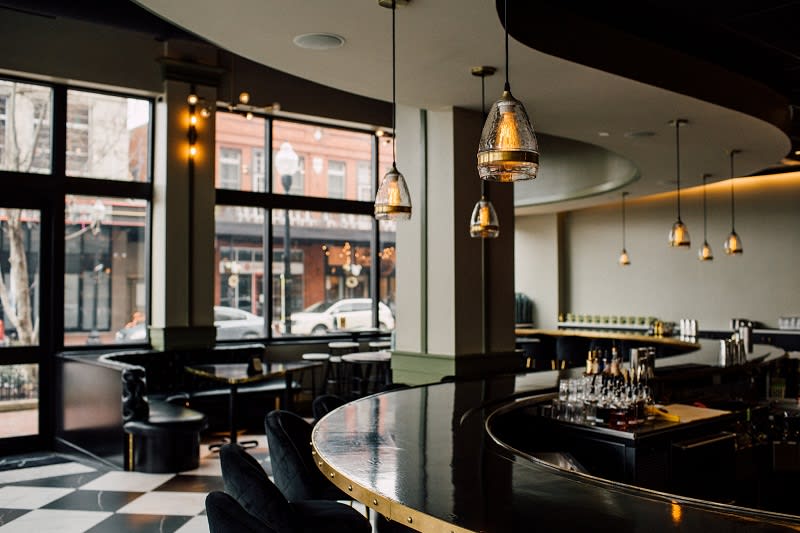 Image credit: The Kennedy
This elegant and stylish bar is actually the sister bar to Old Hickory and is located a few blocks away on South Palafox Place. But the two are far from carbon copies of each other. As a nod to the presidential administration its name comes from, The Kennedy blends early 1960s nostalgia with a modern twist. This is a great bar to visit if you're looking for a classic cocktail like a Cosmo or Midori Sour, but with a team of experienced and talented bartenders constantly creating cool new drinks to try, The Kennedy's menu is never boring.

Wild Again is a blend of bourbon, curry, Con's Mix, acid-adjusted orange juice, rum, and syrup liquor falernum. As one of The Kennedy's many house cocktails, Wild Again is a perfect example of the bar's dedication to classic cocktails with a modern twist. Pair the drink with one of the small bites from the kitchen menu; the bar even offers a Late Night Happy Hour patrons love! Available on weeknight evenings, Happy Hour treats include Pigs in a Blanket, Buffalo Tempura Cauliflower, and Spam Sliders, offering a perfect taste of the 1960s.
Image credit: Palace Cafe
4. Caramel Macchiato Martini — Palace Cafe
Coffee lovers rejoice — the Palace Cafe's Caramel Macchiato Martini is the perfect blend of caffeine and your favorite late-night cocktail. This martini blends together caramel Bailey's, Van Gogh Dutch chocolate vodka, and espresso, creating a sweet and soothing flavor to complete your evening.

Located in Downtown Pensacola's iconic Seville Quarter, the Palace Cafe is a citywide favorite. It's a great place to grab a meal with friends before ending the evening with one of the restaurant's signature cocktails. The burger options are popular, including the Mushroom Meltdown Burger with sauteed mushrooms and warm provolone and the Foster Burger. Made famous at the Pensacola Country Club, this classic patty melt features toasted rye bread, caramelized onions, bacon, and American cheese. You also can't go wrong with the Palace Cafe's seafood options. From baked or imperial oysters to the classic seafood gumbo, this is the perfect place to get your seafood fix!

After your meal, stroll through the Seville Quarter's seven rooms, which, aside from the Palace Cafe, include Rosie O'Grady's, Phineas Phogg's, Lili Marlene's, Apple Annie's, Fast Eddie's, and End o' the Alley. Each restaurant or pub features its own unique atmosphere and delicious menu! Of course, you also can't miss the outdoor concert venue, Seville Party Plaza, or the Heritage Hall event space, perfect for holding your next party. The Seville Quarter has been a Pensacola staple since 1988, offering New Orleans-influenced ambiance, good music, tasty food, and fantastic drinks.
This Pensacola favorite is known for its fabulous and fresh seafood dishes, iconic drink menu, and gorgeous upscale dining on a dock that overlooks the sparkling Pensacola Bay and Seville Harbor. Kick back and relax by the water, sipping on a drink from the Fish House's vast selection of house cocktails or their extensive beer and wine list! The Peach Tea is a refreshing summertime drink featuring Horse Soldier straight bourbon, peach citrus, and Deluna tea, making for the perfect blend of sweetness.

After you've enjoyed your cocktail, check out the Fish House's fantastic seafood offerings! Over half a million people visit the Fish House each year, including both locals and tourists, and for a good reason. People have flocked to this restaurant for over two decades to enjoy the award-winning menu of fresh seafood selections like the Gulf Shrimp cocktail, the Southern-fried oysters platter, the fish tacos, and of course, the daily catch. The daily fish selection can include redfish, mahi-mahi, catfish, salmon, grouper, snapper, or tuna, and is available in five different varieties: blackened, grilled, ginger-crusted and fried, cracker meal-dusted and fried, or pecan-crusted and fried. Finish off the meal with two Southern sides, from collard greens to hushpuppies.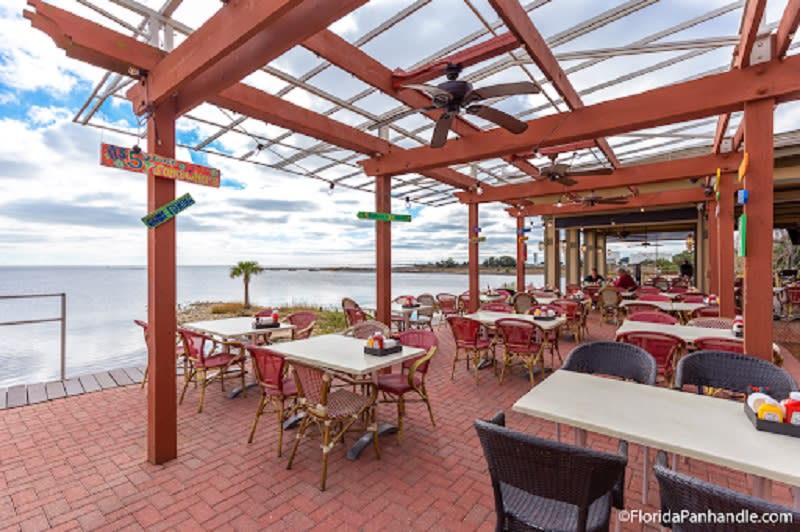 Image credit: FloridaPanhandle.com
Kick back and relax at this Downtown Pensacola waterfront hotspot sipping on your Emerald Coast Margarita! This delicious drink combines Sauza Signature Blue Silver tequila, blue curacao, sweet and sour, lime juice, and simple syrup, finished off with a Grand Marnier floater. It's one of Nick's Boathouse's many iconic signature cocktails, so make sure to browse the menu to find the perfect one to pair with your meal.

And you'll definitely want to stay at the Boathouse for a meal; since 2021, the restaurant has been providing the people of Pensacola with fresh Gulf seafood served in a relaxed waterfront atmosphere. Diners love sitting on the outdoor patio and enjoying stunning views of Pensacola Bay while they dine on Southern and Cajun-influenced dishes. You can be sure that all the seafood is locally sourced, as it arrives fresh from the harbor each day. Each year, Nick's Boathouse prepares over 250,000 pounds of freshly caught seafood from the Gulf, including grouper, snapper, shrimp, and mahi-mahi.

Along with their fabulous drinks and dishes, Nick's Boathouse is known for its breathtaking saltwater aquarium that sets the vibe from the moment you walk in! Both locals and tourists love stopping by the Boathouse for happy hours with co-workers and seasonal live musical performances to enjoy with friends.
A stunning downtown Pensacola garden space, Garden & Grain is a newer addition to the area — although the garden has been around for quite a while! In 1742, British officer Elias Durnford established the space as a Pensacola family's garden. Today, the area is lush and filled with beautiful greenery, providing a sanctuary for the bustle of the city.

The meticulously curated cocktail menu includes plenty of old favorites, from various mojitos (classic, watermelon, pineapple, tamarind, and coconut, all refreshing choices for summer) to decadent and delicious margaritas. But the Macadamia Sour is a unique craft cocktail that definitely deserves a try! Featuring Rhum J.M, macadamia nut, dry curacao, lemon, and bitters, the Macadamia Sour makes for a great kick start to your evening. If you're looking to try some of Pensacola's best beers, Perfect Plain Brewing Co. is located just steps away!

If you're browsing homes for sale in Pensacola, contact the premier Northwest Florida real estate agent team at Tonya Zimmern today! Pensacola luxury estates are some of Florida's most sought-after properties, and Tonya Zimmern and her experienced and knowledgeable team will be happy to help you navigate the process.